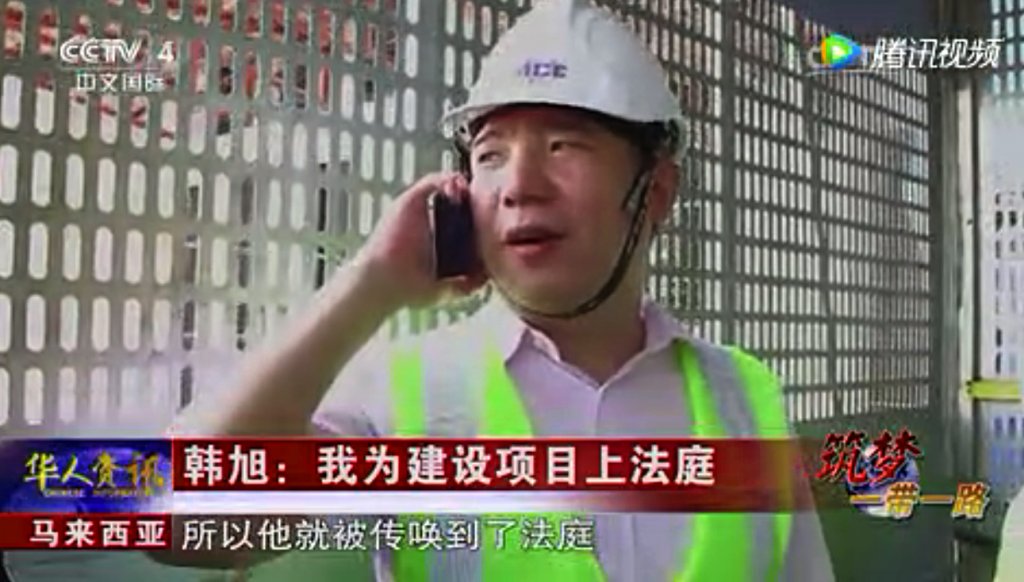 央视台中文国际频道《华人世界》栏目对中冶海外马来董事兼总经理助理韩旭专题报道
China Central TV yet again explore the daily life of MCC Overseas Malaysia Han-xu for interview and report.
        4月7日,中央电视台中文国际频道(CCTV-4)《华人世界》栏目以"一带一路"为主题,对中冶海外马来西亚公司董事兼总经理助理韩旭进行了专题报道。
马来西亚地处亚欧板块的最南端,是21世纪海上丝绸之路的必经之地和重要节点国家。近些年,中冶海外依托"一带一路"国家战略加快"走出去"的步伐,在马来西亚的市场开发和项目执行都取得了骄人的成绩,也涌现了许多先进人物,韩旭就是其中之一。
片中对韩旭在马来西亚工作三年来的点点滴滴进行了深入采访,从多角度向全国的电视观众展现了一个建筑人、一个中冶人在海外十年工作的心路历程。
《华人世界》是中央电视台唯一一档宣传海外华侨华人的资讯类节目,周一至周五播出。栏目的宗旨是关注华人生活、传递华人声音、服务全球华人。栏目的核心理念是关注人、讲故事、追大事、追热点。每天报道全球华侨华人的最新动态消息,关注热点新闻背景下的华侨华人,讲述华侨华人在海外奋斗的感人故事,展现新时期海外华侨华人的真实风采。
        After the MCC Overseas Malaysia Huang Bao-chai being interviewed by the China Central TV [Chinese World] programme. On the 2017 April 7th,The CCTV International Chinese channel 4 of its [Chinese World] programme related to 'One Belt ,One Road initiative' as main theme, yet presented another personnel from MCC Overseas Malaysia, from the board of directors, assistance to managing director mr Han-xu being interviewed by the same programme in regards of the said topic.
The programme have in-depth discovering the works of Han-xu over his past 3 years works in Malaysia bit by bit from various point of views and angles, revealing to audiences how the world of a MCC personnel, a construction worker, his past ten years of overseas experiences about his physical and mentally state of mind.
Malaysia is located at the Asia-Euro subcontinental plate, is one of the 21st century stoppage and the only maritime silk road voyages passage. In recent years, MCC Overseas based on national 'one belt ,one road initiative' strategy has fasten upon its path to venture into overseas market, and Malaysia market's development and projects execution have since achieved a very profound results, and thus have created many of the elite personnel, and Han-xu happen to be one of them.
[Chinese World] is one of China Central TV the only programme that telecast and promo overseas Chinese of their informative livelihoods, relays the voices and services of overseas Chinese globally .Airing time is from Monday till Friday. The core ideal is to pay attention to people, tell the stories, pursuing biggest and hottest events. Reporting overseas Chinese latest activities daily around the globe, paying attention to overseas Chinese while under hot topic issues, of new era overseas Chinese strive to achieve excellence or touching stories of success in true life.