马来西亚公司参加沙巴州亚庇市2017建筑展览会
MCC Overseas(M)SDN BHD Participates in the Sabah Construction Fair 2017 held in Kota Kinabalu, Sabah
       2月24日至26日,中冶海外马来西亚公司参加了在马来西亚沙巴州亚庇市举办的"第一届沙巴州亚庇市建筑展览会",本次展会由沙巴州建筑公会及马来西亚科学、技术和创新部共同组织,吸引了包括来自中国、马来、德国等国际著名机构参与。
       参会期间,沙巴州公共工程部主任拿督Amrullah Haji Kamal亲切接见了中冶海外马来西亚公司沙巴州市场开发负责人巫杰华、人力资源部经理黄利达等人,双方就沙巴州市场开发等事宜进行了交流,巫杰华向Amrullah Haji Kamal先生介绍了中冶集团整体情况及中冶海外在马来西亚的经营情况。他说到,中冶集团是全球最大的冶金建设工程承包商和钢铁企业运营服务商,中冶集团的战略定位是做"冶金建设国家队、基本建设主力军、新兴产业的领跑者",希望能与沙巴州在更多领域开展合作。
       沙巴州公共工程部主任拿督Dato Amrullah Haji Kamal对中冶海外马来西亚公司能够参与会展表示欢迎,表达了州政府非常希望中冶集团来沙巴州投资,并在工程建设等方面给予州政府支持。
       展会最后一天,巫杰华经理还接受了当地新闻媒体采访,为提升中冶集团和中冶海外在沙巴州的知名度起到了重要作用。
       通讯员(徐嘉艺 黄文浩)
       Led by Mr. Moo Ket Fah, person-in-charge of MCCO's Sabah business, and Mr. Ng Lee Tat, Manager of Human Resources, a team of 8 representatives participated in the Sabah Construction Fair 2017 at the Sabah Trade Centre in Kota Kinabalu, Sabah from the 24th – 26th February 2017. The said fair was jointly organized by the Sabah Builder's Association and the Ministry of Science, Technology and Innovation (MOSTI).It is also the first ever construction fair organized in Kota Kinabalu, Sabah. A total of 129 exhibitors, including government agencies such as the Construction Industry Development Board (CIDB), Chinese enterprises like the China State Construction Engineering Corporation, the French construction group, VINCI Group, Malaysia's renowned developer Gamuda Berhad, and many other organizations took part in the fair.
       During the fair, Sabah JKR, Director of Public Works, IR. HJ. Amrullah Kamal met with exhibitors of MCC Overseas led by Mr. KF Moo and Mr. LT Ng and exchanged views on matters related to Sabah's property development market. Mr. Moo introduced the overall situation of the MCC Group and then went on to further describe MCC Overseas' current operating condition. He pointed out that MCC Group is one of the world largest metallurgical construction contractors as well as iron and steel business operators and service provider. The new strategic position of MCC is to become the "National Team of metallurgical construction, the main force for infrastructure construction, and the leader in emerging industries."
       The Sabah JKR Director of Public Works, IR. HJ. Amrullah Kamal welcomed MCC Overseas' participation in the fair and expressed the state government's wishes for Chinese enterprises to invest in Sabah and to provide support in engineering and construction.
       On the last day of the exhibition, Mr. KF Moo was interviewed by a local news media, contributing greatly to MCC Overseas' publicity and reputation.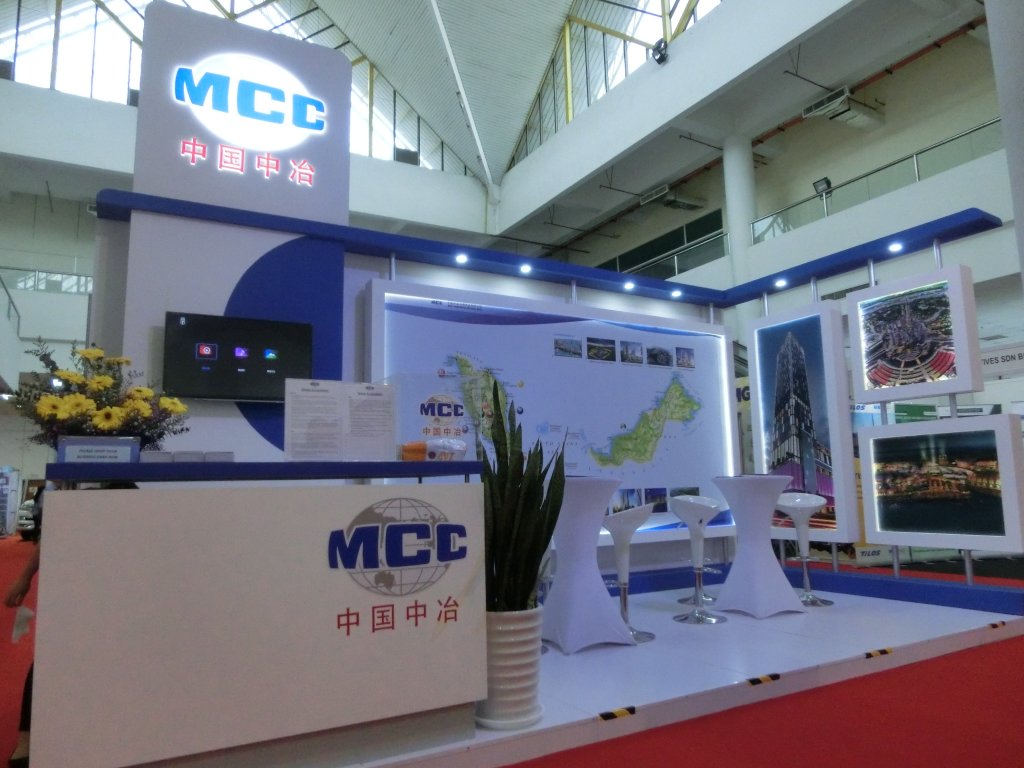 马来公司展台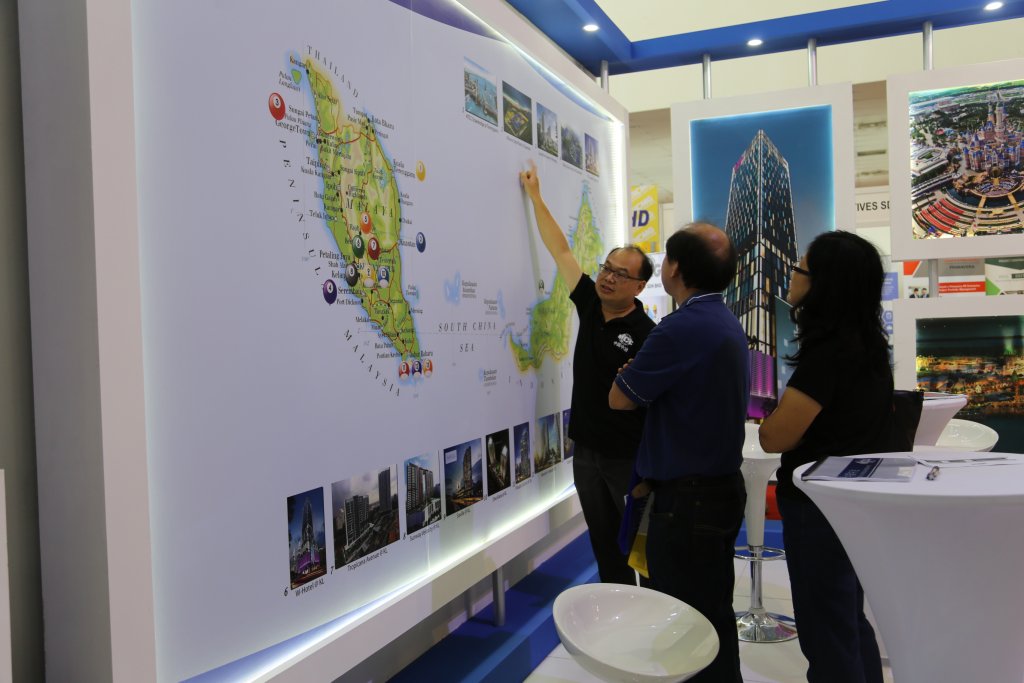 巫杰华经理为访客介绍公司项目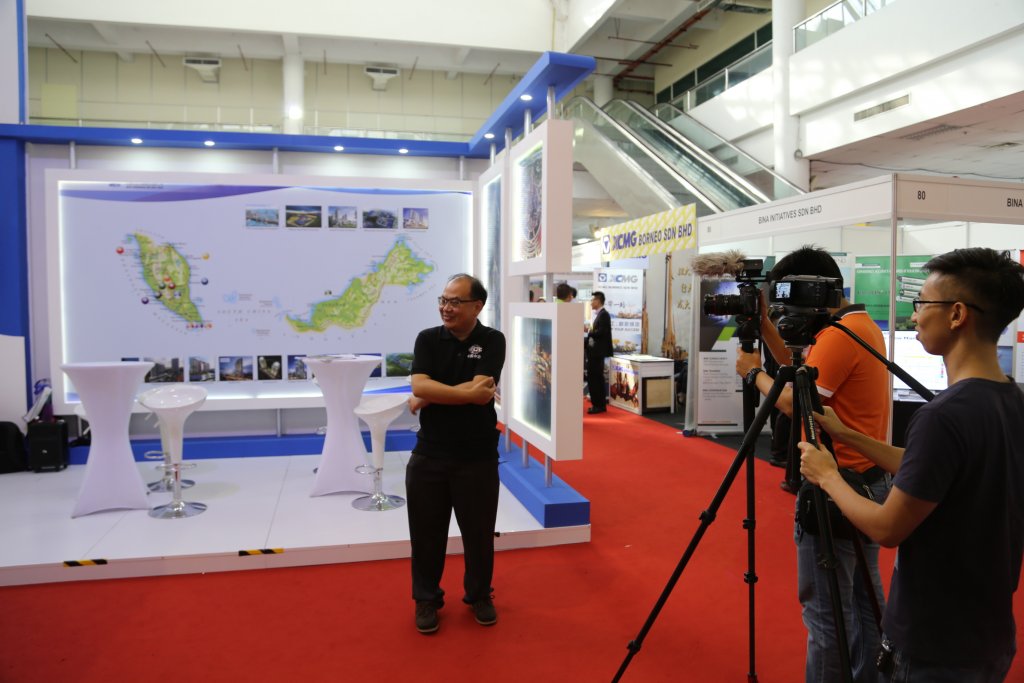 巫杰华经理接受亚庇市电视台采访