2月28日房地产协会经济论坛
2月28日,中冶马来西亚公司总经理杨若冰、副总经理曾飞腾受邀出席由马来西亚房地产开发协会(REHDA)主办的"2017经济与商业论坛"。
On 28th February , MR. Yang Ruobing,  Managing Director of MCC Overseas (M)SDN BHD, together with Zeng Feiteng, Deputy Managing Director of MCC Overseas (M), was invited to attend the "Economic and Business Outlook Conference 2017" hosted by the Malaysian Real Estate Development Association (REHDA).
杨若冰作为主讲嘉宾,做了主题为"Design Inspiration For Developers"的演讲,他将中国资本进入马来西亚的动因归结为四个方面:资本全球化下的价值洼地;"一带一路"政策指引;马来西亚政经体系完善;中马双边关系"新高度"。As an honorable guest lecturer, MR. Yang Ruobing delivered a lecture themed with  "Design Inspiration For Developers" , the motives for  Chinese Capital to invest into Malaysian real estate market  were categorized  into four aspects: The lowest place of  value depression under capital globalization circumstance;the One-Road One Belt  policy guidelines; the  perfectness of Malaysian political policy and economical system; as well as bilateral relation "new height" level and so on.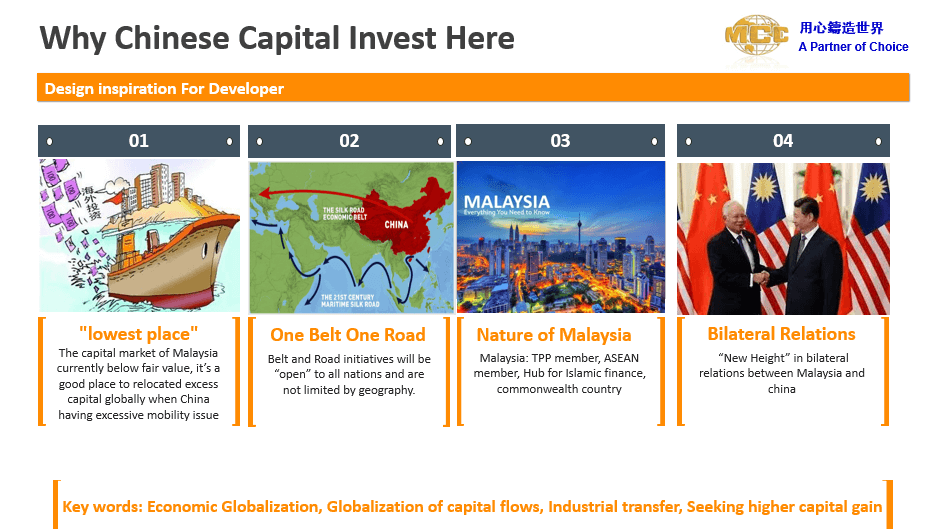 杨若冰指出:"马来西亚的资本市场,特别是货币市场仍被低估,呈现出"价值洼地"的局面,中国资本全球化配置进程的加速 顺势将马来西亚作为理想地点之一",杨若冰强调,"作为中国央企,中国中冶马来西亚公司作为"走出去"企业的先行军,将全面贯彻落实国家"一带一路"发展战略以及国内优质产能转移政策,抓紧机遇,认清风险,在基础设施建设、EPC工程总承包、冶金建设、民建等领域与马来西亚本地企业加强产能合作,互信互利,合作共赢"。
Mr. Yang pointed out that "The capital market of Malaysia, especially the monetary market here, has still been undervalued like a lowest place of Value Depression, presenting the situation being below " fair  value ", thus Malaysia will be one of the ideal locations by the opportunity for the Chinese capital relocation in accelerating  pace during the globalization process. Yang reiterated :  "As one of China central government owned enterprises, MCC (M) SDN BHD ,as the pioneer of "going out" enterprises,will fully implement national   "One Belt One Road" development strategy and domestic quality production capacity transfer policy, shall seize the opportunity , identify the risks and strengthen production corporation with local enterprises in Malaysia in fields such as infrastructure construction, EPC Engineering Contracting, metallurgical construction, civil construction and so on and so forth, we will gain the win-win outcome through mutual trust and mutual benefits.
在讲到马来西亚房地产投资领域时,杨若冰生动的将马来西亚市场环境归结为"七好七坏"。关于城市升级与"一带一路"带来的新投资机会,杨若冰指出:"政府和企业应关注产业变迁、产业涌入所带来的投资机会,关丹工业园、沙捞越民都鲁工业园等中马产能合作持续升温,周边配套亟待填补;除此之外,政府和企业还应关注城市化及人口老龄化所带来的机会、比如养老地产板块;加强互联互通、完善基础设施、改变出行习惯所带来的机会。"    When speaking of real estate investment in Malaysia, Yang Ruobing vividly summed up the Malaysian market environment attributing to "seven good seven bad." As far as concerned are the city upgradation and the new investment opportunity brought about by One Belt One Road , Mr. Yang  pointed out what government and enterprises should focus on  the industrial transitional changes, the investment opportunities brought  by  the influx of industries;nowadays  it's very imperative to supplement the surrounding incorporated facilities with the constantly heating up of risen production capacity cooperation between China and Malaysia especially in  Kuantan Industrial Park, Pintulu Industrial Park in Sarawak," said Yang Ruobing, in addition, the government and enterprises should also be concerned the opportunities brought about by urbanization and the aging of population, such as the pension real estate sector; strengthen interconnection, improve infrastructures, and cherish all the opportunities brought about by the travel habit change.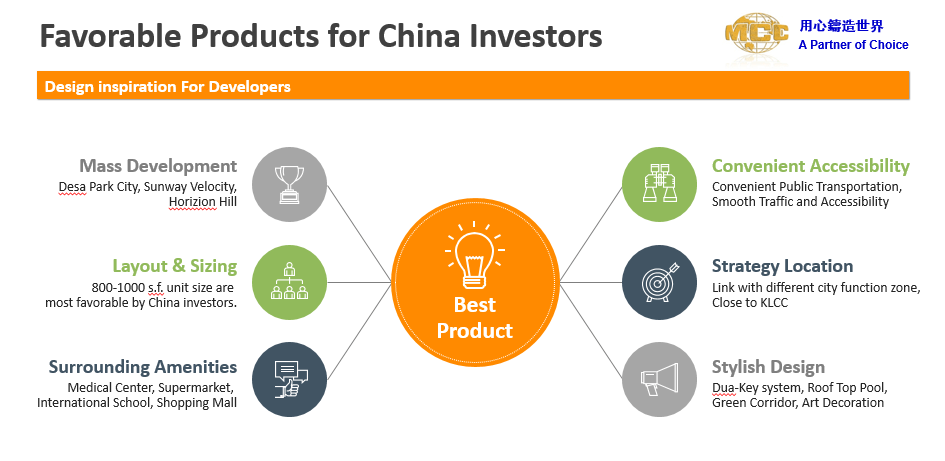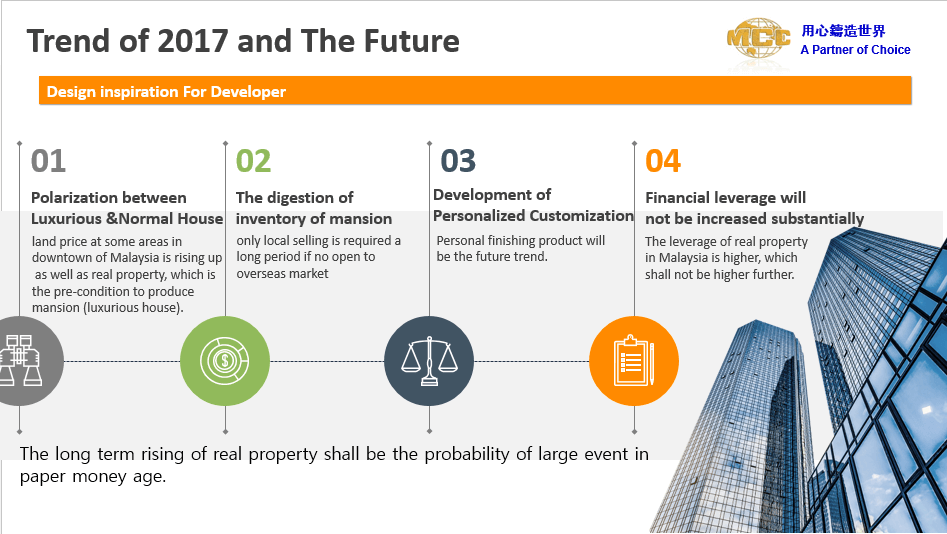 最后,杨若冰讲到:"豪宅与经济适用住宅将呈现两极化趋势,同时随着BIM技术的完善,未来将在预售阶段即可为买家提供个性化的精装修产品,在户型上通过可移动式隔墙来灵活调整户型"。杨若冰总结道,"在纸币化的时代,无论哪个国家、政府,长期来看货币都是贬值的,房地产长期上涨则是大概率事件。"
Finally, Yang Ruobing addressed: "luxurious and affordable housing will present a polarization trend and meanwhile with the BIM technology improvement and perfectness, in the pre-sale phase in near future it's likely for developers to provide personalized finishing products for the buyers, mobile partition walls will be applied to flexibly adjust the apartment patterns. " Yang Ruobing summarized, "In the era of paper money, no matter in which country, with  which   government, in the long run, monetary is always in depreciation, financial leverage will be not increased substantially, it is an event of large probability  for real estate to enjoy the long – term rise.
杨若冰的精彩演讲获得连连掌声,在随后的问答环节中,杨若冰和曾飞腾一一就参会者的问题给予解答,本地各大报章、门户网站纷纷进行报道。Applauses were over and again rewarded during Yang Ruobing's wonderful lecture delivering and all the questions raised by forum participants were answered by Mr. Yang Ruobing and Mr. Zengfei Teng one by one in the following Q & A session, the lecture in the forum were widely reported afterwards by the local major News agencies and main gate networks.